Telecommunications Injection Molding Services
The telecommunications industry is an ever-growing market with technology advancements, and we partner with industry leaders to offer the latest in-tool design and function to meet our customer's requirements.  High-volume, complex connectors are required to meet our world's communication needs and Atlas Precision has earned a solid reputation in the industry to provide quality products on time to our customers to help fulfill those needs.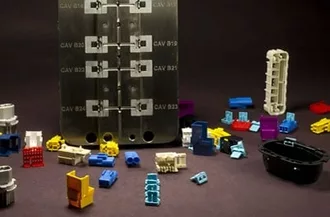 The telecommunications industry is an ever-changing, ever-advancing sector, and plastic plays a critical role.  Because of the rapid advancement in technology, the telecommunications industry strives to use the best possible materials that are low cost, resistant to heat, high resilience, low water absorption, and lighter weight.  The essential insulating properties of plastic make it crucial for electronic applications, especially when addressing the indoor-outdoor environmental variables encountered in the telecommunications industry.  With the communications industry continuously needing smaller components, it is imperative to work with a company that can handle the production of tiny parts in a time-efficient, cost-effective way.  Because of the strengths in injection molding, more precise parts can be produced efficiently from plastics.  This is especially important in industries like telecommunications, where very specific and highly intricate plastic mechanisms are needed.  Using an injection molding process to produce these components maintains their quality and purity, ensures their precise shape, and produces results that today's advance technologies need to operate efficiently and reliably.
Atlas Precision Plastics, Inc. manufactures a complete line of plastic injection molding products for telecommunication applications and more, and we offer full service from concept to finished product.  Our mold-making capabilities allow us to manufacture just about any custom component for our telecommunication partners. Let us help you today!