Automotive Injection Molding Services
At Atlas Precision Plastics, we offer best-in-class automotive injection molding services.  We can facilitate just about any injection molding job bumper to bumper.  From tool design to PPAP process, we are confident in meeting our customer's requirements.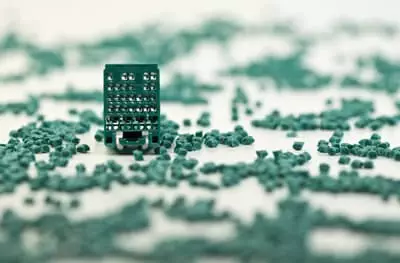 With advancement in automotive technology, parts are becoming increasingly complex in design to allow for safety, fuel efficiency, and reduced environmental impacts.  Injection-molded parts have played a major factor in reducing the overall weight of vehicles and trucks.  This reduction in weight has greatly contributed to the overall cut in fuel consumption.  Other components are being made from injection-molded plastics for better performance and greater durability.  By using durable plastics, vehicle manufacturers will be able to avoid various issues associated with using metal, such as rust.  Plastic is lightweight, less costly, and at times, more durable than metal, making it the perfect choice for the automotive industry.  Using plastics has helped the automotive industry design and produce more safe, cost-efficient, fuel-efficient, and more environmentally-friendly cars.
Atlas Plastics understands the meticulous nature of the automotive industry.  Keeping molds maintained properly is a necessity if you want to make sure your parts will not develop distorted and defective areas that will produce structurally weak parts and components.  We take pride in delivering durable, reliable, and highly-precised automotive injection molded plastic parts.  From design to manufacturing, Atlas Plastics can provide good quality, high performance, and outstanding accuracy for injection molded automotive parts and components.  We will guide you through the design, manufacturing, and maintenance process every step of the way.
Some of our engineered plastic components include:
Connectors
Wire Harness
Covers
Filtration
Storage Devices
Fuel Applications